Without a doubt, the leading news organization covering the historic Middle East unrest is Al Jazeera. Available in limited markets here, their website has been the home for its impressive coverage.
"We had figures that indicated that we had 2,500 percent increase in traffic; 60 percent of that traffic was from the United States of America," said Satnam Matharu, the director of communications, in a recent interview with NPR.
From my point of view, the lack of distribution for the English broadcast, the use of technology in the unrest and the quickness of the evolving news has been a prefect combination that has enabled Al Jazeera to be a leader in coverage and use of tech.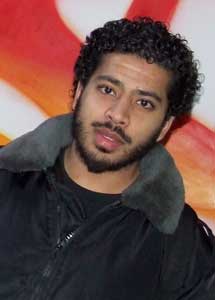 For this week's post, I 'interviewed' Online producer for Al Jazeera English, Bilal Randeree. Because of the time difference and the constant news developments, Randeree and I 'met' on a collaborative document to have this conversation over several weeks.
First, Bilal, thank you for taking the time to answer my questions. I know you and the entire Al Jazeera crew have been extremely busy. Why don't we start with you introducing yourself, your role at AJE, and how you started in journalism? Also, while it's clearly been a newsy few weeks… how does it compared to your usual daily routine?
Hey Robert, sounds good. Really busy with Libya at the moment – I'm sure you've seen all my tweets (@bilalr) – our live blog is hugely popular once again!
I'm going to give a few very brief answers now cos I'm taking a quick break from the shocking news, so here goes:
I'm from South Africa – worked in banking for a few years, based out of Johannesburg – I then moved to London, but the timing was bad cos the financial crises hit as I was settling in!
As a freelance writer at the time, I was constantly asked to cover the crises from the 'inside' – what I learned then made me realize that working in corporate was not for me. I went back to school and did a post-grad in journalism. It was that degree together with my experience in corporate that landed me the job at Al Jazeera as a Business Journalist.
However, after moving to Doha I soon changed over to a general Online Journalist. I write for the Al Jazeera website, and update and maintain our various social media and online platforms. The past few weeks have been incredibly busy, with most of my colleagues and I working long shifts, day after day.
Can you describe the online operation at Al Jazeera? How incorporated is the Web staff? Do the different 'sister stations' with different languages have different Web staffs?
The English and Arabic channels are largely editorially independent – and so are the two websites. However, there is always the necessary collaboration and exchange of information, sources and resources.
The English website actually started before the English channel, but I'm not sure how things operated back then. These days, the website news desk is in the AJE newsroom, so we interact with broadcast quite a bit.
Typically, broadcast has reporters around the world covering the news for us – they are limited in terms of time on air, so the website is where our audience comes to for in-depth coverage and analysis of international news. Together with news from our reporters, we use the main news wires as sources, together with good old fashioned telephone journalism – the Internet is a major source obviously, and we are constantly finding and using new online tools for news gathering and contacting sources on the ground.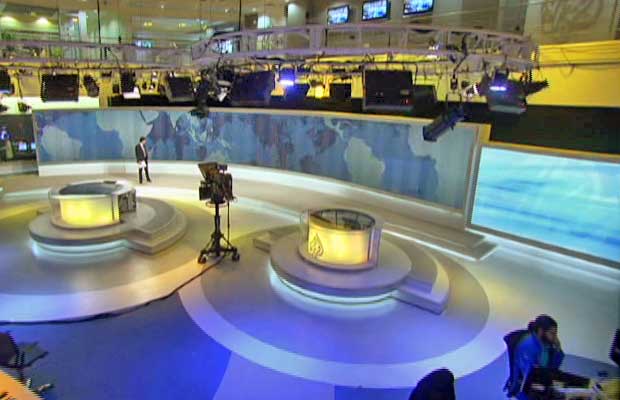 Bilal Randeree, lower right hand corner, works only a few feet from the set.
So, when it comes to AJE, the website came first … that's a quite different experience from most newsrooms. And it sounds like it has had some interesting effects. How would you describe the culture of the 'converged' newsroom?
Well, to be honest I'm not in the ideal position to answer this question, seeing that I've been here for a year now, and the English channel has been running for a good few years already. In terms of convergence, its a constantly changing relationship – broadcast and Web are continually finding new and better ways to work together and support each other, over and above the obvious. The most recent development, starting with our Tunisia and then Egypt coverage, has been the 'Web Desk' that TV hosts – they prop a presenter in front of the camera, that discusses what is going on online, how readers are interacting with us on different platforms, and also what is being shared, discussed and debated on the Internet.
Can you talk about, and perhaps list, all the different Web platforms and tools AJE employs (Twitter, Tumblr, iPhone Apps, etc.)
I have only recently started the Al Jazeera Tumblr account, but we've been active on Twitter and Facebook for a while now. The New Media team has traditionally been very strong and innovative, but the link between the tools they develop and experiment with, and how they are used on the News Desks was not at its best about a year ago. In that time however, network-wide training courses in Social Media were held, and the change is quite noticeable – besides the Web team, lots of other AJ people are active on different platforms.
Our live blog has been the latest hot development and we are seeing an incredible following, mainly for the hot news events that are constantly developing – first with Egypt, and now with Libya.
I tweeted that I was interviewing you and got this question from @Abdulla_AlAthba. He asks 'Did twitter make it easier for [journos] @ AJA to track the news?' Can you talk about how technology has changed the way Al Jazeera does its reporting?
Well, while Al Jazeera English and Al Jazeera Arabic both form part of the Al Jazeera Network, the two stations operate relatively independent of each other. There is collaboration between journalists on both sides, but not all stories are covered by both, or in the same way.
In my personal experience, from the beginning, when things started in Tunisia and English broadcast was not covering the story in depth, due to a lack of sources on the ground, I was able to build up a good network of trusted sources through Twitter. While Twitter does alert us to events that are unfolding, its rare that Twitter itself will be a source – rather, a journalist can find sources and make contacts on Twitter, and then follow up with phone calls or emails, etc.
What stands out for me, when I look at Al Jazeera, is how technology is so embraced and employed in all different types of coverage. What do you think is the reason why it seems to be more open and willing to embrace technology, while other news orgs may be… a little… more reluctant. Or, is it my imagination, and Al Jazeera is facing with the same tech cultural issues other newsrooms are?
Well, I can't speak for how other media organizations work – and for us at Al Jazeera, it's not just the way we embrace technology, etc. that makes us stand out from the rest, but rather almost every aspect of our coverage.
I would assume that compared to most other big media organizations, the fact that we are still not able to be broadcast extensively around the world, we know and value the importance of the Internet more, and hence make more/better use of it.
Can you talk about the equipment/gear Al Jazeera reporters, those that cover breaking news and file for the Web, carry with them? I hear Flipcams and phones instead of laptops.
We have been using Flipcams for a while now, and have some cool campaigns running where we give citizens Flipcams and they produce content that feeds back to us.
For reporters and producers that cover live events, there are a few different tools they use – mobile phones for tweeting, sending through Audioboos and Twitpics, from places where there is no Internet or the Internet gets blocked, we issue Thuraya IP modems.
Our New Media team also has iPhones and BB's that they issue out to anyone going out into the field, that has all apps and software, customized and tested for ease of use.
Thank you so much for taking the time to answer my questions. I know you've been quite busy!
Robert Hernandez is a Web Journalism professor at USC Annenberg and co-creator of #wjchat, a weekly chat for Web Journalists held on Twitter. You can contact him by e-mail ([email protected]) or through Twitter (@webjournalist). Yes, he's a tech/journo geek.