Hi, I'm "Evil Man."
Well, that's according to All Things Digital's Kara Swisher, who moderated a keynote presentation with America Online's Tim Armstrong and National Public Radio's Vivian Schiller at the Online News Association conference in D.C.
She dubbed me that after I asked a question that, to me, was clearly the elephant in the room.
For months before the conference, there has been a buzz in the journalism industry with people trying to understand AOL's Patch.com, a venture in hyperlocal news.
According to its website, the Patch network is in 14 states, but expects to expand into three more. It's already in more than 300 cities (63 of them in California alone), and plans to add nearly 200 more.
The ISP-turned-content network is putting its money where its virtual mouth is by committing an investment of up to $50 million to this project.
They have hired a ton of people, among them laid-off journalists and recent j-school graduates. It has even partnered up with several universities, including the USC Annenberg School for Communication and Journalism.
I know a few of their folks and they rave about their new, exciting job.
But, there are reports painting a less-than-positive side to this network. From claims of plagiarism to descriptions of "sweatshop"-like hours, these reported issues have raised concern.
At a recent Hacks/Hackers meetup in Los Angeles, the topic of Patch came up and there was concern that local, independent bloggers would be killed off. That said, it was also admitted that not enough was known about the venture, but the group would like to explore the concerns.
Still, even while I was at the conference, people were asking each other what they thought of Patch. In fact, there was an unconference session (an impromptu session proposed and voted upon by the conference attendees) that wanted to explore this question.
But by 45 minutes into the keynote, it looked like no one was going to ask the question. So I tweeted this out: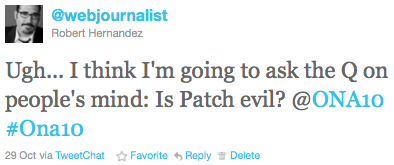 And, once I was handed the mic, I did.
You can see the exchange, which aired on C-SPAN live (jump to: 00:45:58). It was also written up by Lost Remote. You can tell that the attendees were the shocked that I asked, but applauded the question.
One person told me she literally spit out her coffee when she heard my question while watching the live video stream.
For the record, I was not trying to say Patch is evil with my question, but merely ask the question that people were thinking. Prior to the conference, I had been on the fence about Patch and engaged other folks about this topic.
The reaction to my question has been overwhelming positive, but what has been interesting to me has been how a few folks thought I was either too soft or too hard on Patch. To me though, that averages out to the spot that I had intended: straight down the middle.
As you may have heard, the ONA10 attendees took to Twitter making me a local trending topic. Here are some of the reactions:
A search of Twitter will show you a ton more, but Dani Fankhauser also compiled a list of her favorite tweets.
Outside of the comments, the two questions I got asked most were: What did I think of Armstrong's answer? And, do I think Patch is evil?
Personally, I was mixed on his answer… I was surprised that he seemed like he didn't know this vibe was toward Patch. While he talked in general terms about pay and pace, I did like his idea of partnering with local bloggers.
After all that, is Patch evil? From what I can tell, no. It's hiring journalists. It's trying to be a service to many communities. It's investing in informing the public, while other media companies have just stopped cutting budgets.
But, I also don't think it is all a giant Patch of roses. To me, it seems to be a move to become one of the largest ad networks in the country, going after local advertisers. Under the umbrella of "we care about the community," this is a business venture. That's not evil, that's capitalism.
The bottom-line in this story isn't my personal opinion. That alone doesn't really matter. What mattered was that someone asked the question on everyone's mind. What I did was not brave… it was journalism.
Not sure it merited being called "Evil Man," but glad that the act of asking was applauded. I also like that the questioned spurred a dialogue about the project.
So, in keeping with that ongoing dialogue, what is your take on Patch? Are you a supporter or a hater? Email, comment or @reply me with your thoughts. I'll publish the crowdsourced response soon.
Robert Hernandez is a Web Journalism professor at USC Annenberg and co-creator of #wjchat, a weekly chat for Web Journalists held on Twitter. You can contact him by e-mail ([email protected]) or through Twitter (@webjournalist). Yes, he's a tech/journo geek.